Cyph Becomes First Tor Service to be Issued EV SSL Cert
One way to anonymize yourself even further while using Cyph is to use it through Tor. That way not only will your details of your communication be secured with robust quantum-resistant encryption, but you'll be masking the true source of the traffic as well. Not only have we built a Tor hidden service, but we were the first companies ever to be issued an Extended Validation SSL Certificate
[tweet id="585522670558715904″ align="center"]
Jamie Elvidge of DigiCert confirmed this in an email saying:
Technically you beat [Facebook and Blockchain] to the punch 😉 Your tweet is correct!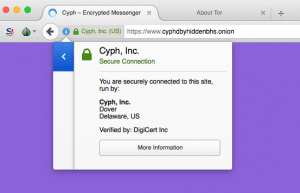 To use Cyph on Tor, simply go to our Onion domain: cyphdbyhiddenbhs.onion (we remember it as Cyph'd by hidden bhs) and also verify that the EV SSL certificate is valid, by making sure the green lock says Cyph, Inc. and that it is verified by DigiCert.
I'd like to thank the DigiCert team again for letting us try novel implementations and be at the forefront of certificate security!
Important Note: If you're using the Tor Browser Bundle, update to the latest version right away. Older unknown versions were compromised with a vulnerability where you could potentially be doxxed.