Cyph is a secure communication tool designed to be extremely friendly for users of any technical skill level, providing such features as encrypted video calling and file transfers to both individuals and businesses. The patented technology underpinning our software was built by two former SpaceX engineers — and rigorously vetted against a threat model focused on nation-state-level attacks — with the vision of defending innocent people from increasingly sophisticated rogue hackers and invasive government mass surveillance.
Ryan Lester, CEO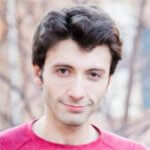 Baron Joshua Cyrus Boehm, COO
Ryan and Josh have been friends for two decades, in that time having spent many all-nighters working closely together on various software projects. Most recently, they were on the internal software quality team at Elon Musk's SpaceX, where Ryan drove the development of next-gen test automation tooling and frameworks while Josh led software quality assurance efforts.
Over the years, the difficulty of communicating privately online had become a constant thorn in their side. Existing solutions were largely cumbersome to use, had major functional limitations (lack of support for video calling, restrictions to small sets of platforms and operating systems, etc.), and often came with "gotchas" that would silently compromise confidentiality when one didn't have the expertise to fully understand the tool.
They knew there could be a better way, so they created Cyph.